GREAT LOOKING HAIR
A hair salon for EVERYONE of all ages.
The professional team of hair stylists at Bettys & Bombshells hair salon offer a wealth of creativity, knowledge, and experience in hair care. Whether you're looking for a cut, color, styling or creative ideas.
A hair salon with innovative and fashion-forward hair care. The Bettys stylists are your hair specialists. We're always willing to provide you with the proper information, products, and tools to keep you looking salon-perfect at home.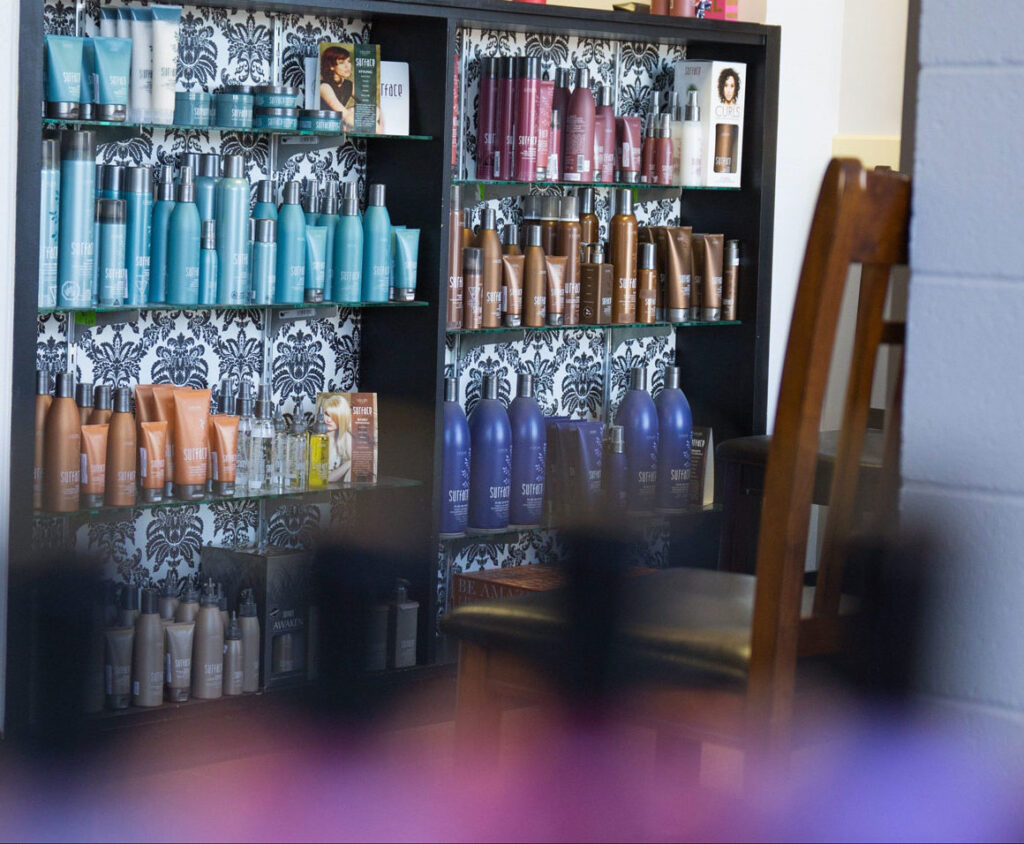 "Bettys and Bombshells hair salon offers an exciting and fast paced environment for you to come and enjoy the latest trends in hair care!"
OUR TEAM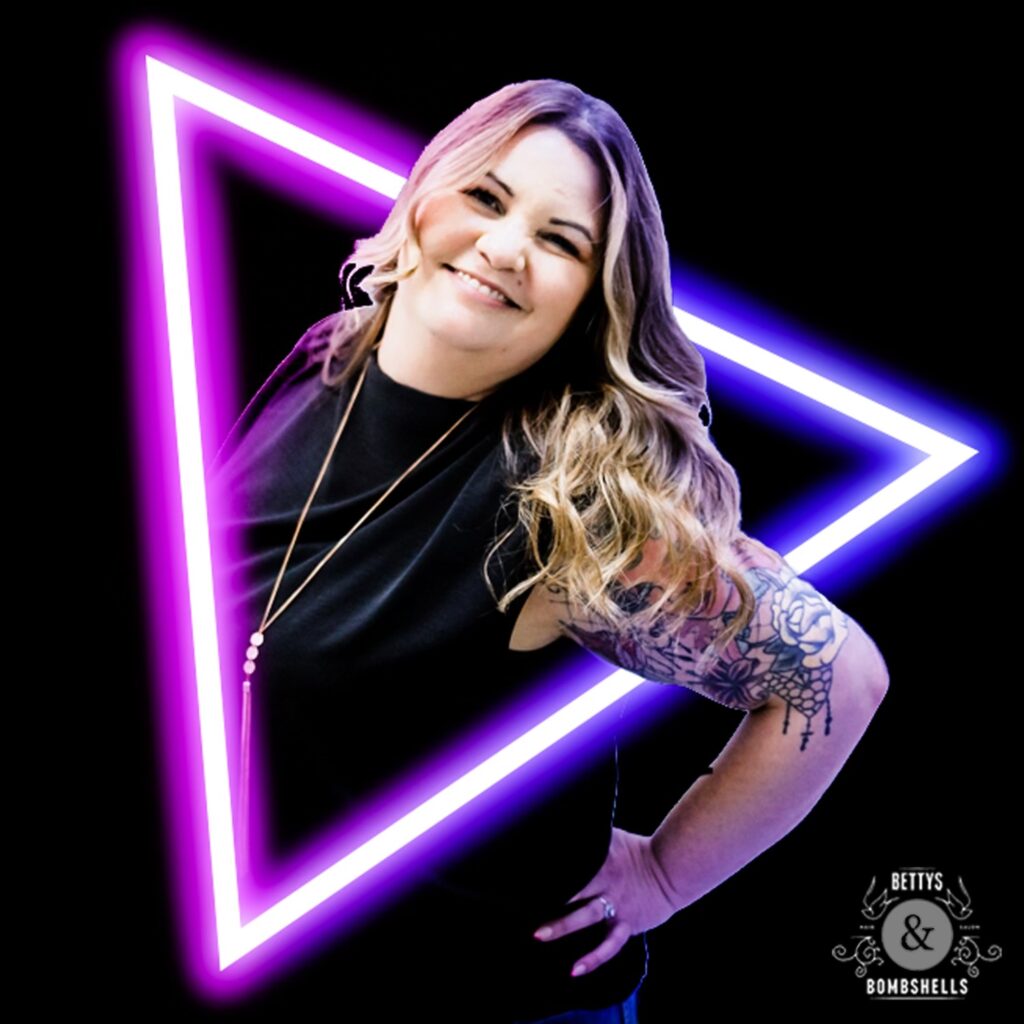 CHRISTY JONES MORRISON
I have early memories of my mom giving me home perms and sitting under the portable dryer. It was obvious to me that there had to be better options then the strawberry blonde "disco-fro" I dawned from the age of 4 on.
I have had the privilege of building my clientele in a few salons around Lethbridge and some of those clients have been with since the beginning of my career in 2000. I decided to put down some more permanent roots and open Bettys & Bombshells in 2009. I truly enjoy all aspects of being a stylist, especially creating new looks. Many of my clients just say, "I trust you", and I get to bring out the best in them.
At home, I have my supportive husband and our mushy pitty Patty. Together we love to travel, go to movies, and Netflix and chill. Did I mention I love shopping?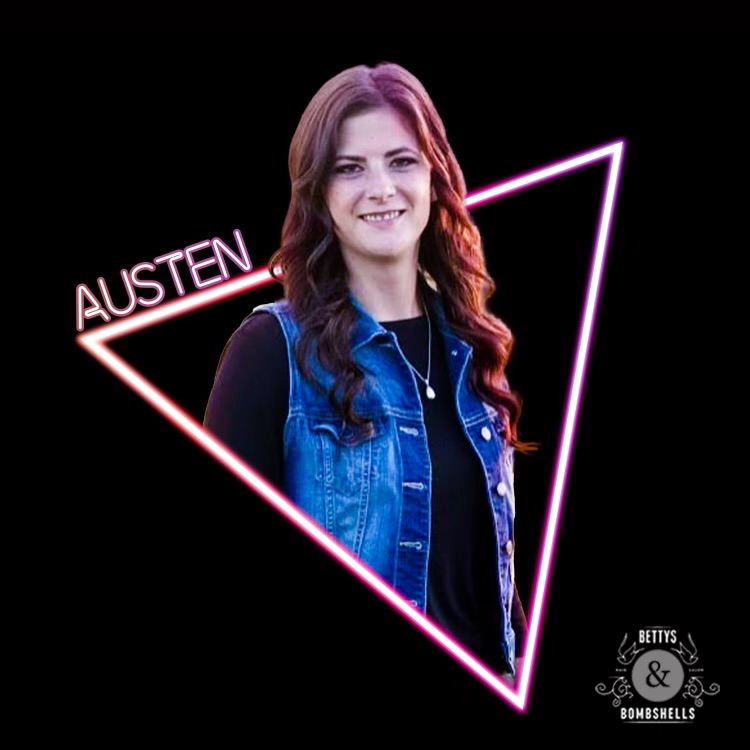 AUSTEN BATES
I joined the team in 2016. I love the joyful carefree fun and professional environment that is noticeable to every person that walks through the door. We have a truly amazing team and I admire everyone that I have had the pleasure of working with.
I have kept up to date with the latest styles, trends, tips, and tricks that my industry has to offer. With every client that is new to me we will have a visit, anything from lifestyle, maintenance , and past experiences are discussed in my consultations. This ensures there are no grey areas or surprises when my clients leave the chair. I love bringing everyone's personalities to light letting their inner beauty shine through. It is truly a beautiful and rewarding line of work to be in. I wish everyone loved their job as much as I do.
When I am not in the salon I'm usually with my better half Brett or with my family. The mountains are where we spend the majority of our spare time camping, horseback riding, and riding quads. I'm also a 3rd generation lifetime member of the Mosley gun club where I compete in trap shooting in a league.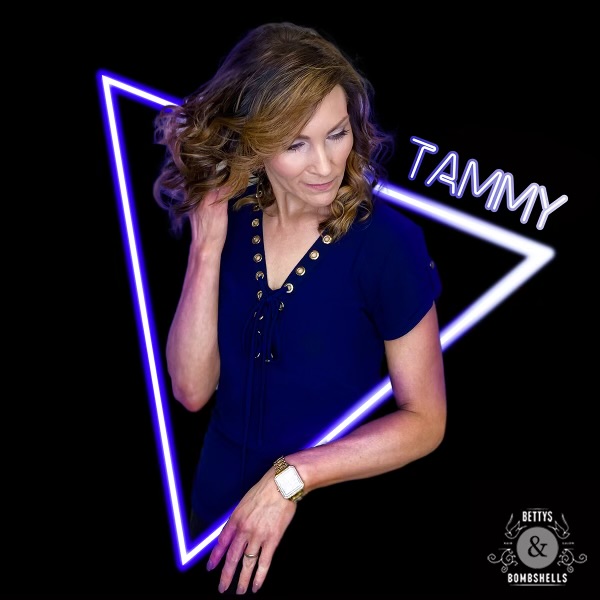 TAMMY SARUWATARI
I have been a hair stylist for over 25 years. My career as a stylist has given me the opportunity to meet a lot of special and interesting people. I feel lucky to have wonderful clients with whom I have formed special relationships with over these many years.
I specialize in soft natural styles, razor cuts, and have worked with a lot of naturally curly hair. Making people look and feel good about themselves is something I enjoy.
I am married and have three children. In my spare time you will find me reading, watching sports, or on the golf course.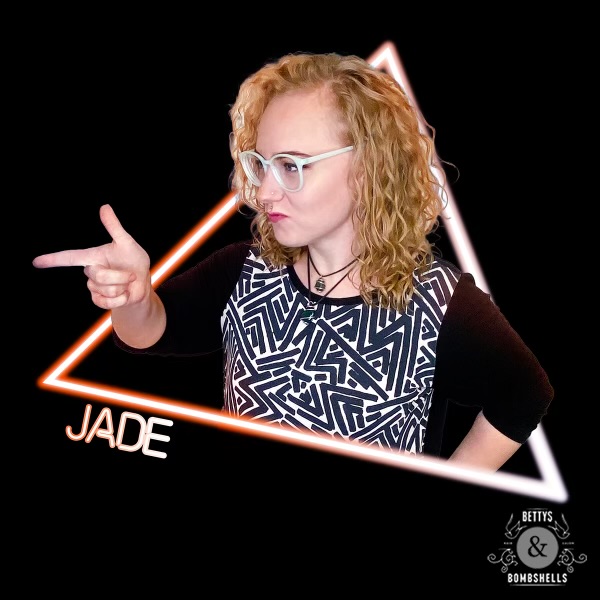 JADE VAS
Hairstyling as a career, has been the most rewarding and fitting for my personality. Being fun and creative all while making people look and feel good about themselves is the most amazing feeling.
My biggest goal as a stylist, is to make everyone their happiest and the best of the best. When my guests are 100% happy and have a big smile, I know that I have done my job. I have a unique outlook on life and I live for the opportunity to share my sense of humor and big heart with anyone who will let me.
My work as a colorist is my passion, from bright and vivid, to natural highlights, to deep and chocolaty brunettes.
When I am not at the salon, you will catch me out at local concerts, enjoying some great music and dancing. I love my three cats Molly, Leo, and Yoyo. I love to snuggle and watch Netflix and scroll through the Buzzfeed videos, and Instagram. Hashtags I follow are #catsofinsta #positivevibes #sephora.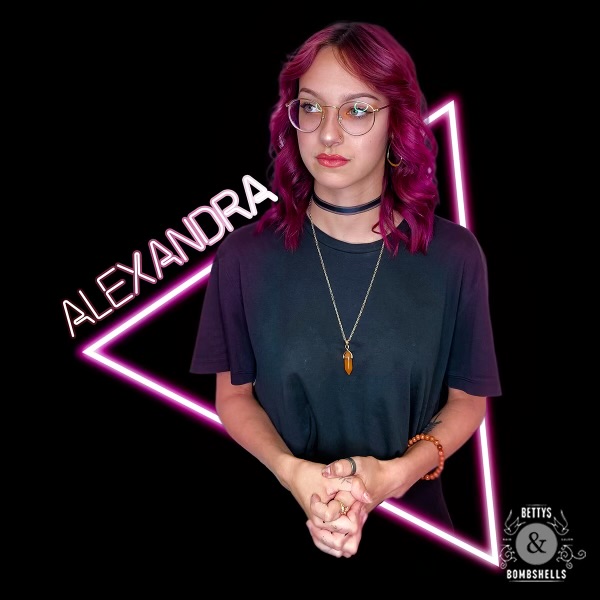 ALEXANDRA ZACHARIAS
I like to think of stylists as artists and artists are forever learning new techniques. Working with hair is incredible to me, it's an art, it's creative, it is modern and trendy but historical too. Its very personal to each individual and I love meeting unique people everyday.
I personally love to dabble in color and new ideas. Anything from soft and vintage to alternative and bold.
I was fortunate enough to begin studying cosmetology when I was just 15 and it was love at first fingerwave.
I started my career in Calgary at 17. By the time I turned 19 I'd moved to Bettys and Bombshells in Lethbridge for new adventure and opportunity.
In my spare time? You'll find me skating at SLP and trying new tricks. I have a passion for animals and nature because Canada's wildlife is so important to me. I'm an amateur artist, I like pen and ink or acrylic painting. I also put a lot of time into visual journaling. Otherwise I'm busy rocking out to Misfits, The Beatles, 70s and more with my boyfriend Zach and our Bunnies!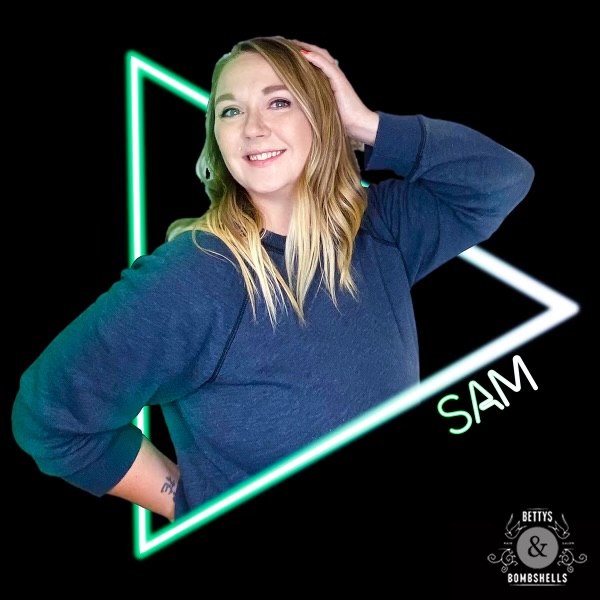 SAM TOOHEY
I moved to Lethbridge in 2010 to pursue my career as a hairstylist. I joined the Betty's team in 2014.
The hair industry is always changing and my guests are always wanting to try new styles. Whether we are "chopping" it all off, or a color makeover, I love that I get to learn all the new techniques and apply them to my guests and friends.
When I am not at the salon, I am usually getting together with my family and friends, especially my little big furry, four-legged sidekick Dex.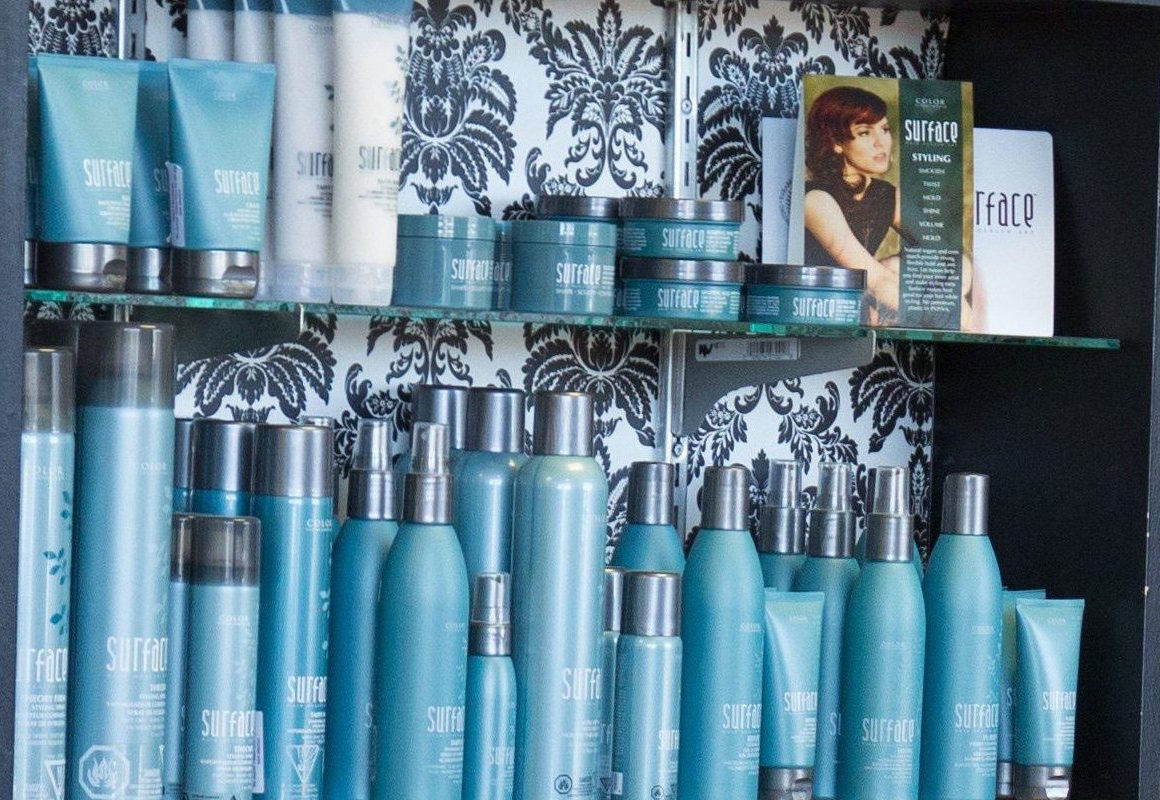 OUR SERVICES
Our dedicated team of stylists customize hair services to suit each individuals unique needs. Experience our quality of service through technical expertise. We will provide advice to ensure the integrity, condition, and functionality of your hairstyle.
Consultations are always Free
Colors & Texture
Touch up (roots only) $80+
Color $100+
Double Process Blonde $150+
Foils/Babylights $120+
Balayage $140+
Vivid/Fashion Color $150+
Classic Texture/Perm $80+
Long Hair Texture/Perm $120+
Conditions such as hair length, density, texture, and technique prevent us from quoting exact pricing for color and texture services.
Haircuts & Finishing
Ladies Haircut $42+
Junior Ladies Haircut $28+
Gentlemen Haircut $28+
Junior Men Haircut $18+
Childrens 10 & under Haircut $15+
Classic Blow-Out $20
Updo $60
All Haircuts Include wash, cut, & finish.
Prices may differ among stylists within the salon and is based on the seniority & experience.
Extensions
Consultation required for all extension appointments.
Please
Give us 24 hours notice of any cancellations as a courtesy to your stylist and other clients who may be waiting for an appointment. A $30 rebooking fee may be charged to your file.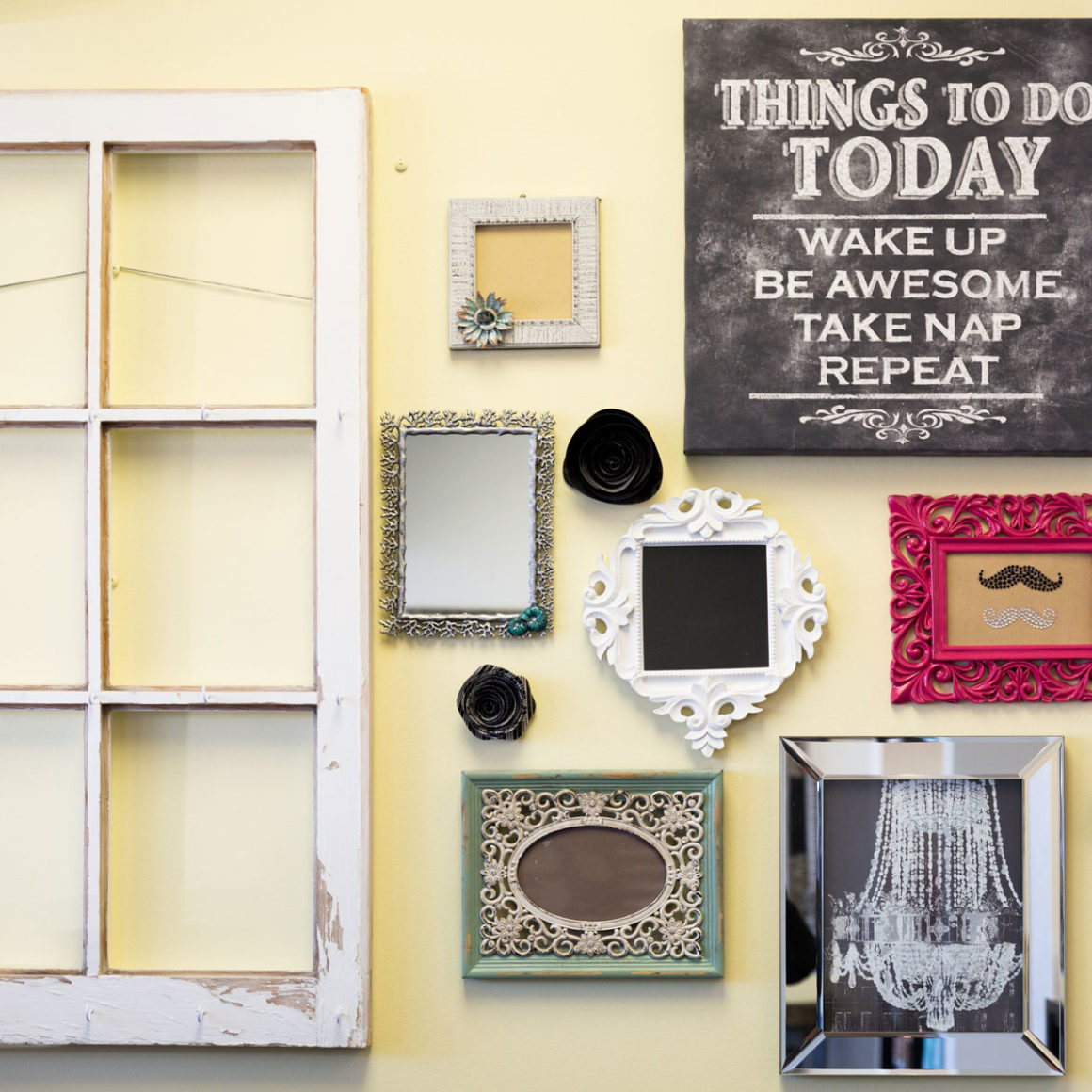 HAPPY CUSTOMERS
The comments below are just a few positive reviews our customers have left us!
Very pleased with Tammy. Great color and cut. Finally someone who gets the art of cutting. Thanks Tammy.
Charlene Gourlie
Service was great! Jade did my haircut today and she took her time to make sure I was happy with the results. Loving it!
Ana Gils
Christy is AMAZING! Her salon is always very clean and she is cutting edge on trends and what will look good on you. She educates her clients on how you can recreate your style and has wonderful products that also help to keep your hair looking its best.
Christine Laurie
Go see Austen!!! She is absolutely wonderful. You will leave feeling like a whole new person!! She always takes good care of you. The salon itself carries great products at reasonable prices!!
Nikki Dempster
I loved it here! I will definitely be going back!
Jacqueline Friesen
Jade was awesome, she gave good advice and did a great job. Shes a gentle kind person who does not rush but does a thorough job. I will definitely be going back to her and will recommend her services going forward.
Colleen Randall
Always great service, very quick, and friendly atmosphere. Highly recommend.
Michelle Mifflin
Awesome service. Worth every star.
Jaron Richards
Welcoming atmosphere. The stylist are knowledgeable.
Anna Olson
Best salon ever…professional and well experienced people.
Jennifer Andrei
CONTACT US
SALON HOURS
Monday 9:00 am – 5:30 pm
Tuesday 9:00 am – 6:00 pm
Wed-Thur 9:00 am – 9:00 pm
Friday 9:00 am – 5:30 pm
Saturday 10:00 am – 3:00 pm
Sunday Closed
OUR ADDRESS
1127 Mayor Magrath Dr. S.
Lethbridge, Alberta
Canada T1K 2P9
PHONE